Celebrate Literacy Week, Florida! Literacy - Civics Service Project Contest
---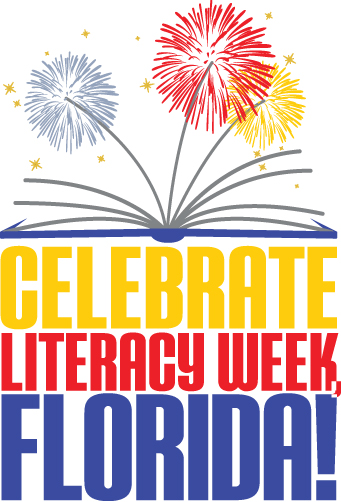 Celebrate Literacy Week, Florida! Literacy Service Project Winners
Elementary School Winners:
1st Place - Prairie Lake Elementary - Lake County - Following Hurricane Matthew and recognizing the effects that the storm had on their community, the students of this next school developed the "Light the Path to Literacy" campaign. These students identified specific challenges and gaps in resources that may be impeding a student's ability to focus on his or her education, and they set out to make a difference in the lives of children who were displaced or homeless. By holding book drives and collecting donations, the students were able to provide books, book lights and snacks for 150 children in their community. Students also brought awareness to the community by providing information via phone messages, posting messages on the school marque and in school flyers, as well as placing posters around the school campus.
2nd Place - Pemayetv Emahakv Charter School. - Glades County - By hosting a book drive, Pemayetv Emahakav Charter School provided books to children at several local facilities. Children at the Raulerson Hospital, the Martha's House for domestically abused families and the Real Life Children's Ranch can now enjoy a new book collection while at the facilities. In addition, a collection of books were sent to a small village in South Africa where a new library has just been completed. The efforts and contributions of these students is truly making an impact around the world!
3rd Place - Eustis Heights Elementary - Lake County - "Stuff the Bus" was the theme of this school's exciting Celebrate Literacy Week project. In an effort to improve literacy skills and the future of all children, teachers and students partnered with community members such as the city mayor, police chief, fire department chief, local county commissioners as well as churches, local service organizations and businesses, to collect over 4,000 books! These books were distributed on January 26th to children and families in their community as part of the school's Celebrate Literacy Week celebration. These students are truly putting action behind this year's theme of Literacy Changes Our World.
Middle School Winners:
1st Place - Central School - Santa Rosa County - "Harvesting Literacy" became the school's mission statement for their service project. Students collaborated with teachers, community members and one another to provide access to books for their community in a variety of ways. Students built the Little Free Library Book Barn for the elementary school, where anyone can donate or borrow a book anytime. Volunteers helped create several "COOL Classroom" settings, which consisted of outdoor literacy spaces for the high school students. Students also partnered with local farmers to host literacy events during harvest season to raise money for Literacy Loot Bags which were provided to children in foster care. What an amazing job these students have done as they worked hard to change the culture of learning in their community.
2nd Place - Swift Creek Middle School - Leon County - Students at Swift Creek Middle School remembered what it was like making the BIG transition from elementary school to middle school and wanted to help ease the anxiety of the current 5th graders at their neighboring elementary school. After creating books in which they shared the qualities of being a good citizen in their community, school and home, the students of Swift Creek Middle School read aloud to small groups of students from the neighboring elementary school and inspired students to change the world around them through literacy. The student's motto was "one student, one book at a time!"
3rd Place - Johnson Middle School - Brevard County - Recognizing a need within their own school, middle school students from the National Junior Honor Society and the Intensive Reading classes worked together to create PowerPoint read-alouds for students in the school's supported level, self-contained class where students love having books and stories read to them. The project brought students from all levels of reading together to accomplish one mission and, in doing so, changed the world of others through literacy.
High School Winners
1st Place - Ft. Myers High School - Lee County - Students created a shared reading program where hearing students were paired with fellow deaf or hard of hearing students to read and discuss a book of their choosing. The hearing student also worked to create lesson plans that could then be used to further support student learning and the advancement of literacy skills with hearing impaired students. Through multimedia, social media, and media presentations, student shared their experiences with others in their school, community, and state during Celebrate Literacy Week, Florida! The school also plans to expand their initiative into the neighboring middle and elementary schools in order to make an impact on all hearing impaired students in their community.
2nd Place - Marathon High School - Monroe County - Motivating students to read at home was the driving force for the students and teachers at Marathon High School. Working together, students and teachers organized and created a Literacy Night - Book Exchange which promoted independent reading while building a culture that values literacy. The event included live student readings, an invitation to participate in the event's book exchange, and a lovely dinner prepared by the culinary arts students. A wonderful time was had by all and through this event students recognized the impact of literacy in their world.
January 23-27, 2017
Celebrate Literacy Week, Florida! MEMO
Celebrate Literacy Week, Florida! Literacy-Civics Service Project Contest - Information
Celebrate Literacy Week, Florida! District Plans
Last Year's CLW 2016 Winners Announced! CLW Literay Civics Service Project Press Release