Career Exploration Resources
---
Career Cruiser
The Career Cruiser is a career exploration resource used to promote career development for students. It provides self-assessment activities to assist students in thinking about the relationship between personal interests and career goals. This publication is now only available online.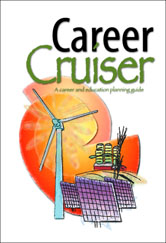 MyCareerShines
MyCareerShines is the state's career information delivery system. It provides career and educational exploration and information. MyCareerShines includes assessments for interests, skills, and values as well as information on careers and postsecondary education.
MyCareerShines is available for use by all Floridians at no charge. If you have questions about the MyCareerShines program, please contact Heather Conley at 850-245-0913 or careerplan@fldoe.org.
Parent Primer
The Parent Primer, a 20-page booklet, provides information on changes taking place in education and the workplace along with strategies for parents to use when advising their teens.