In the Limelight
---
Career and Adult Education would like to feature your success stories! Share the good news about your state officers, state and nationally winning teams, teacher accomplishments, etc. For more information or to submit your success stories, please contact Suzanne Munroe at Suzanne.Munroe@fldoe.org.
Lake Technical College Recognized at Annual COE Convention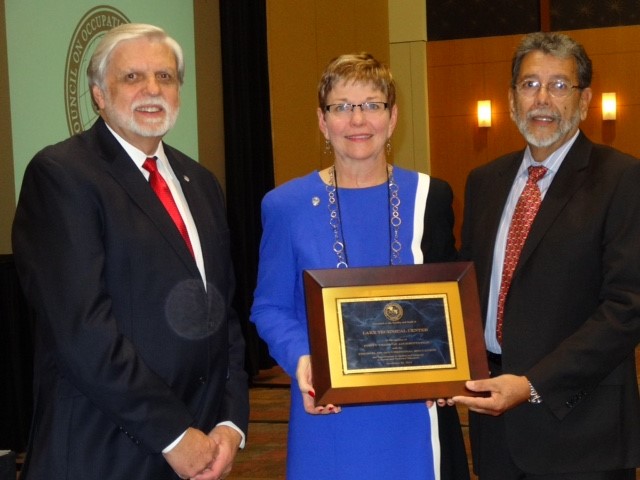 Eustis, FL, December 9, 2014– Lake Technical College was recently recognized at the Council on Occupational Education (COE) annual conference in Memphis, Tennessee. Dr. Diane Culpepper proudly received a plaque on behalf of Lake Tech commemorating 40 years of COE Accreditation. The COE is a national institutional accrediting agency for postsecondary occupational schools that offer certificate, diploma, or applied associate degree programs. More information on the COE can be found at www.council.org.
Contact: Kimberly Frazier, Lake Technical College 352-589-2250 Ext. 1835
High Water Mark Initiative Kick-off
Officials from Santa Rosa County and FEMA will kick-off the newest flood education program, the Santa Rosa High Water Mark Initiative, Tuesday, Dec. 9 at 11 a.m. at Navarre Park, 8513 Hwy. 98 near the foot of the Navarre Beach Bridge. The goal of the program is to draw attention to Santa Rosa County's flood risk by marking how high the water has risen in previous flooding events and to encourage residents to take steps to reduce their risk. The public is invited to come and visit the informational booths set up by our local, state, and federal partners. The heart of the program is the installation of 13 signs located around the county that mark the point of the highest water level during Hurricane Ivan in 2004.
The signs are designed by Gulf Breeze High School Academy of Multimedia Design and Technology and will be placed at the following parks:
• Shoreline Park Boat Launch
• Navarre Visitors Center
• Riverwalk on Blackwater River
• North side of Avalon Bridge
• Oriole Beach Boat Ramp
• Navarre Beach Park
• Bay Bridge Boat Launch (west side of Gulf
Breeze Parkway)
• Carpenter's Park Boat Launch
• Andrew Jackson Drive Boat Launch
• Russell Harbor Landing Park
• Deaton Bridge
• Woodlawn Beach Boat Ramp
• South Side of A
For full High Water Mark Initiative Kick-off article
Broward IT Teachers partner with Microsoft
On November 5 and 6, ten IT instructors met with a Microsoft IT Evangelist (James Quick) at the MS Latin America headquarters in Fort Lauderdale. This two-day training incorporated a 4-week curriculum for students to learn to program Phone Apps for the Windows phone. In addition they studied computer game making tools so that HS students can develop a computer game targeted at assisting elementary students in improving their literacy skills.
OCPS Tech Center Saturday Success Story
Wanda Remy stopped by Orlando Tech to share some good news! Shown here, with her Health Unit Coordinator instructor, Georgianne Dowdell (Miss G.), Wanda was all smiles talking about her new job at Florida Hospital in Kissimmee. Wanda moved from Haiti to Orlando in 2009. As a student at Evans High School, she found out about the tech centers and wanted to become a dual enrollment student.
Read full article at the following link: https://www.ocpstechcenters.net/CTE_News/Documents/October_2014.html.
It Takes a Village
Indian River State College changed our lives as a family. Because of Carmen Gladstein, a GED instructor at IRSC's Pruitt Campus, who repeatedly encouraged me to begin my education, I believed in myself and enrolled in the GED program. I was awarded my high school diploma in 2008, and with the help of a Laura Foster scholarship from IRSC, I was financially able to complete my A.A. degree in Political Science in 2012 with High Honors. I plan to continue pursuing my B.A. in Human Services, Generalist -- as soon as my youngest child is more independent.
When I started in the GED program, I had no idea how instructors could be so passionate and dedicated to the success of their students. After completing a writing assignment, Hart Stephenson, one of my GED instructors, said to me, "I always look forward to reading your essays." This was so encouraging.
As the saying goes, it takes a village to raise a child, but in our society there doesn't seem to be much of a village left. Indian River State College has taken on the role of the village in helping area students achieve their dreams by encouraging them and following their progress. IRSC has been an enriching experience for my family; not only have they been assisted academically, but their personal and career growth has been enhanced with the help of faculty and staff. After I received my high school diploma, my husband and two sons received their diplomas through the programs in the Adult Secondary Education Department. My daughter graduated from the home school program through St. Lucie County Schools, and earned her A.A. degree with High Honors in December. She now works part-time in the GED office at the Pruitt Campus and is pursuing a bachelor's degree.
All of my children have been home-schooled for most of their school years, and five of my six children are currently enrolled at IRSC in various programs: Nadia Westerik – B. S. in Public Administration, Public Policy and Leadership Concentration; David Gerard – A.S. in Computer Information Technology, Cyber Security Institute; Shawn Gerard – A.S. in Emergency Administration and Management; Ezechiel Gerard – Dual Enrollment and Jeremiah Gerard – Dual Enrollment.
Elisabeth M. Gerard, GED graduate 2008, Indian River State College
M-DCPS Career & Technical Education High School Students Excel at National STEM League Finals
Miami-Dade County Public Schools' (M-DCPS) Career and Technical Education (CTE) math and science students from TERRA Environmental Research Institute and Miami Springs Senior High School were among the country's most motivated National STEM League Ten80 teams to compete in the national finals recently.
Thirty-six teams from across the nation revved up the engines of remote control model racecars and robot vehicles, and also presented their innovative green engineering projects and racing team marketing designs to judges.
TERRA won second place in the grand champion overall category. Trophies and cash prizes were presented to both schools in other categories, including:
Engineering Project: Miami Springs - 1st place; TERRA - 2nd place
Team Presentation: Miami Springs - 1st place; TERRA - 3rd place
Graphic Design: Miami Springs - 1st place
Read full M-DCPS Career & Technical Education High School Students Excel at National STEM League Finals article
Contact: John Schuster, Miami-Dade County Public Schools 305-995-1126
Academy of Finance Students Get a Head Start as Future Bankers
Forty-five Miami-Dade County Public Schools students from various schools in the District will have the opportunity participate in an innovative summer program called the Future Bankers' Camp. CareerSource South Florida and several local banks have strengthened their commitment to expose students to careers in the financial services industry by sponsoring the program.
The Miami Dade College School of Business and the Center for Financial Training Future Bankers' Camp will prepare students enrolled in Academy of Finance programs at Barbara Goleman, Coral Gables, Coral Reef, Mater Academy East Charter, Miami Jackson, North Miami Beach, and Miami Sunset senior high schools. The summer program will provide students with various educational enhancement opportunities that will enhance their math and communication skills, including completion of an internship program and industry certification with the ultimate aim of college and career readiness. This initiative is also aligned with the school district's partnership and involvement in the One Community One Goal targeted Industry Implementation Plan.
Read full Academy of Finance Students Get a Head Start as Future Bankers article
Contact: John Schuster, Miami-Dade County Public Schools 305-995-1126
Coral Gables High School students get Bloomberg certified at State Farm Financial Literacy Lab.
Robert Reisert, accounting teacher at Coral Gables High School, has many students who want to be stock brokers, investment bankers, fund managers or other financial industry professionals, Reisert wanted to enhance the curriculum by bringing his students for training on the Bloomberg terminals after he participated in the Academy of Finance I Am C2 College and Career Ready Conference hosted by FIU and the National Academy Foundation. Reisert told them about a program at the State Farm Financial Literacy Lab, part of the College of Business at Florida International University (FIU), whereby they could become certified to use the Bloomberg Terminal, a widely popular research database that professionals use.
Read full Coral Gables High School students get Bloomberg certified at State Farm Financial Literacy Lab article
SkillsUSA Florida State Competition
The SkillsUSA Florida State Competition was held April 28-29 in Pensacola. There were 1,800 high school and postsecondary students who competed in events such as carpentry, cosmetology, commercial baking, web design and welding, to name a few. The top performers in each competition were awarded gold, silver or bronze medals. Gold medalists will compete in the National SkillsUSA Competition this June in Kansas City, Mo. SkillsUSA is a partnership of students, teachers and industry working together to ensure America has a skilled workforce.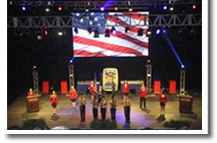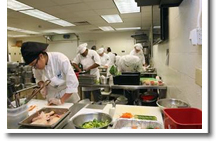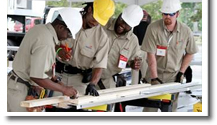 CF Equine Studies Student Wins Dressage National Championship
College of Central Florida student Samantha Cooper, 20, won the National Championship in Upper Training at the 2014 Intercollegiate Dressage Association National Championships Saturday, April 12, in Chatham, Va.
Cooper, who moved to Ocala from Washington to study Equine Business Management at CF, has ridden dressage for the past six years. After she graduates in December with her Associate in Science in Equine Studies, Cooper plans to pursue a bachelor's degree in agriculture business.
Read full CF Equine Studies Student Wins Dressage National Championship article.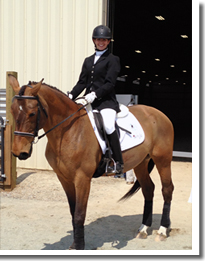 Santa Fe College (SFC) Students Help with Health Occupation Student of America (HOSA) Competition
On Saturday, April 5, 2014, Santa Fe College EMT & Paramedic students judged the emergency medical technician (EMT) competition at the Health Occupation Student of America Florida State Leadership Conference at Coronado Springs Resort at Disney. The HOSA State Leadership Conference had over 3,000 students and advisors present. There were many competitions and workshops during the four day conference. The HOSA competitions that SFC student were involved with were the EMT and First Aid/CPR.
The HOSA EMT competition had 24 secondary (high school) and postsecondary teams from around the state competing for the top spot. These 24 teams were top in their respected HOSA Regional Leadership Conference and advanced to the State level. The top three teams will represent Florida at the HOSA National Leadership Conference in June. These teams work all year to prepare for this competition.
SFC paramedic programs had the privilege of creating the scenario and, along with the SFC EMT students, running the event, with some acting and others judging the HOSA teams from around the state. The scenario is about 12 minutes long and incorporates various skills which the HOSA EMT competitors must perform properly for points. This year HOSA EMT competitors had to manage two patients, one with a bleeding leg injury and then a person having a heart attack. The SFC Paramedic students created this challenging scenario which they pulled from their experiences within our EMS program.
Many of the SFC students also were judges in the CPR/First Aid Competition. HOSA advisors from around the state were impressed with the students commitment to HOSA and to the First Aid/CPR & EMT competitions.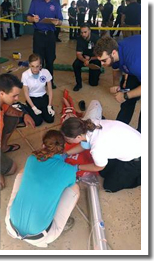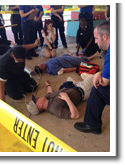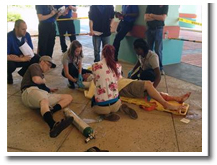 Left: Paramedic student Dylan Rodgers (blue shirt on left) is keeping a close eye on a HOSA EMT team. SFC student Jacob Exley (with hat) plays an older person having trouble breathing while another SFC student actor (Ryan Griffith) is being placed on a long spine board by the HOSA EMT team.
Middle: Paramedic student Dylan Rodgers (on right on knee) is watching closely how the HOSA EMT team treats SFC student Jacob Exley (with hat) who is having trouble breathing. SFC student Victoria Leland plays a concerned bystander to SFC student Ryan Griffith (who has an injured leg).
Right: Paramedic student Drew Little (right side) & EMT student Greg Sanford (on one knee) looks on as a HOSA EMT team treats an injured patient. SFC Student Edwin Vickers (left) plays a concerned father to the injured patient being treated.
Miami-Dade County Public Schools' Career Academies Outperform All School Districts as Nationally-Recognized Programs
Miami, FL - Miami-Dade County Public Schools will be adding four new Distinguished Academies to its existing three Distinguished National Academy Foundation (NAF) career academies.
Alonzo & Tracy Mourning Senior High School Academy of Hospitality & Tourism (AOHT), Coral Reef Senior High School Academy of Finance (AOF), Mater Academy East Charter (AOF) and Miami Central Senior High School Academy of Information Technology (AOIT) join Miami Beach Senior High School AOHT, Miami Norland Senior High School AOHT and Southwest Miami Senior High School AOF that are already Distinguished Academies. Miami-Dade County Public Schools now has seven of the 22 nationally recognized high-quality academies demonstrating that their programs perform at the highest level in preparing their students for college and careers. This national distinction is the most of any school district.
For full Miami-Dade County Public Schools' Career Academies Outperform All School Districts as Nationally-Recognized Programs article.
Contact: John Schuster, Miami-Dade County Public Schools 305-995-1126
M-DCPS Students Participate in National Flight Academy's Ambition Program
Miami - Miami-Dade County Engineering and Information Technology students from Booker T. Washington, Miami Central, Miami Coral Park, North Miami and William H. Turner Technical Arts senior high schools, and Miami Lakes Educational Center participated in the second annual Explore Ambition Program, a STEM career-related experience at the National Flight Academy in Pensacola.
Students, in 9th through 11th grade with varying math and science skill levels, spent their spring break as participants in this unique program at the Pensacola Naval Air Station. Students were separated into squadrons and engaged in the activities to complete assigned tasks with fellow team members. The students received immersion training using various technologies including simulators and virtual reality games that have proven to inspire students to high levels of academic achievement in STEM disciplines.
For full M-DCPS Students Participate in National Flight Academy's Ambition Program article.
Contact: John Schuster, Miami-Dade County Public Schools 305-995-1126
Florida School for the Deaf & the Blind (FSDB) Third Quarter Accomplishments
For information on what great accomplishments have occurred at FSDB, you may read their newsletter (PDF).
FRLAEF Announces Winners of the 14th Annual ProStart Culinary Team Competition
Tallahassee, FL-Florida Restaurant and Lodging Association's Educational Foundation (FRLAEF) announced the winners of the 14th Annual ProStart Culinary Team Competitions which were held Wednesday, March 5 and Thursday, March 6 at the Orange County Convention Center in Orlando.
A total of 60 schools participated in the competition with 16 schools winning top awards throughout the day's events. More than $800,000 in scholarships was distributed to the winning schools. All participating teams were comprised of high school juniors and seniors that are enrolled in the ProStart curriculum program during the 2013-2014 school year. Teams participated in four competitions which included the Cracker Barrel Management Competition, the Johnson & Wales University Culinary Competition, the Keiser University Edible Centerpiece Competition, and the Coca-Cola Company Waiters Relay Competition.
J. P. Taravella High School in Coral Springs won first place in the overall competition. Tarpon Springs High School took home second place in the overall competition, with Leto High School in Tampa placing third.
"FRLAEF is the only organization in Florida that offers the ProStart program," said Carol Dover, President and CEO of the Florida Restaurant and Lodging Association. "It is designed to increase the quality and employability of today's high school graduates by providing them with school-to-career training and giving them more opportunities for foodservice and lodging careers, and higher education. We congratulate all the winners and participants of the team competitions."
Contact: Elizabeth Ray, FRLA Press Secretary, at 850-224-2250 ext. 255 or . Full article.
Seahawk Metal Team Soars at Robotics Competition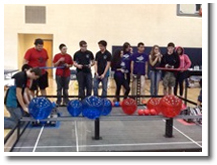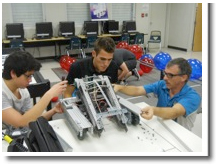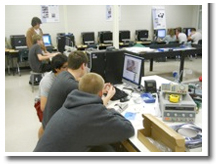 Sunlake High School's Robotics (Seahawk Metal) team recently returned from a brilliant performance at a competition in the Battle of Brandon VEX Qualifying Tournament, ranking 5th out of 27 teams present, and taking home the 2013-2014 Design Award. This award is given to one team who displays a creative and effective design process in allocating responsibilities, budgeting time, and documenting all progress made each meeting. This achievement has qualified the team to attend the VEX State Championship for the High School Division, to compete among Florida's best 36 teams for a chance at qualifying for World's. The team used Solidworks to model the robot in a 3D atmosphere combined with the integration of Facebook into the
Notebook process allowed the team to stand out amidst others at the competition, and were some of the leading factors that led to the award. The Design award is one of the most prestigious awards, and Seahawk Metal was very proud of the progress they've made in their rookie year that led to this outcome. The autonomous programming, created by experienced engineering students, performed consistently well throughout the competition, and was often the component that led to victories with closely-matched opponents. Combine this with a diligent scouting team, an organized pit area, the willingness to cooperate with alliance partners, and spirited team members, and the team found themselves quickly picked by the 4th-best robot in attendance during the alliance selection. Of the 36 qualified teams going to States, 15 teams will be qualified to travel to California in April to compete with the best teams internationally in the World championships. With their goals high and their team ready, Seahawk Metal is thoroughly prepared for an excellent performance in future matches. Updates on the Seahawk Metal team, including building process, competition performance, and pictures can be found by following them on Twitter (@SunlakeRobotics), or by "liking" them on Facebook.
National Center for Construction Education and Research (NCCER) Visits Deland High School
The Florida Masonry Apprentice and Educational Foundation and the NCCER visited with the Construction Education Students at Deland High School. NCCER brought NASCAR Driver David Starr to speak with the students. David is a 17-year veteran of the NASCAR Camping World Truck Series. He has competed in 317 races over 16 years and has won 4 times, has been on the Pole 5 times, and has had an impressive 117 Top Ten finishes.
The students gave David their full attention as he spoke to them about the importance of completing their NCCER construction program sponsored by the Florida Masonry Apprenticeship & Education Foundation (FMAEF). He emphasized the fact that he had been in a career and technical class just like them and that his passion for cars led him to get his Certification for Auto Mechanic. Completion of his career and technical certification helped prepare him to become a NASCAR Driver. He also let the students know that he did not come from a wealthy family and that staying in school and getting his education enabled him to work his way on to a career with NASCAR. David stated in his talks with the construction students just how important it is to complete their program and gain their Industry Certification. He encouraged them to persevere and not be afraid to work hard to reach the top of their chosen profession.
David spoke with over 130 students and generously signed autographs. David also spent time with each instructor, Rick Hervey, carpentry; Greg Gebben, construction technology; and Dr. Daniel Cox, career specialist for Volusia County Schools.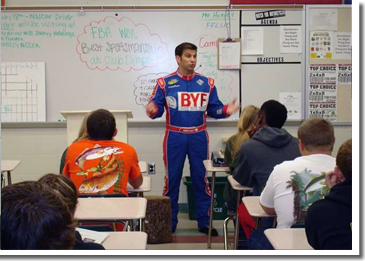 Miami-Dade Teacher of the Year Teaches Adults a Recipe for Success
Miami Herald
By David Smiley
Posted: Wednesday, January 29, 2014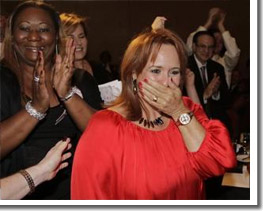 At Myrna Betancourt's Café Du Jour, chefs serve up the finest international cuisine - from paella to pesto pasta.
While they're at it, they discover a recipe for a new life.
Betancourt's kitchen is in the Chapman Partnership homeless center in Homestead and her chefs are students ages 16 to 50, often disadvantaged, sometimes homeless, and always seeking a second chance.
And while the students probably already know it, their teacher is the best in all of Miami-Dade County.
On Wednesday, in front of hundreds of her peers, Betancourt, a former Chicago social worker-turned chef-turned teacher, won the 2015 Francisco R. Walker Miami-Dade County Teacher of the Year award.
Miami-Dade Teacher of the Year Teaches Adults a Recipe for Success full article
SF EMS Students Take First and Second Place in Life Support Competition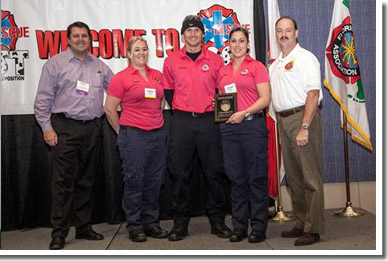 (Left to Right) - Dr. Peter Springer - Nicole Roberts - Jon Friend - Jillian King - Chief Russell Rafferty
Today@Santa Fe
Published on Monday, January 27, 2014
Students from Santa Fe College's Emergency Medical Services Program took First Place in the 2014 invitational National Advanced Life Support / Basic Life Support (ALS/BLS) Team Competition in the Student ALS division. SF's EMS team B took second place in the ALS division.
SF EMS Students Take First and Second Place in Life Support Competition full article
Cape Canaveral, Fla. (September 18, 2013) - Nine students from Merritt Island High School in Merritt Island, Fla., witnessed history Wednesday at the launch of a major U.S. military satellite, the Advanced Extremely High Frequency (AEHF) 3.
The students are part of their high school's Project Lead The Way (PLTW) engineering program. PLTW is the nation's leading provider of science, technology, engineering, and math (STEM) education programs for middle and high schools. The hands-on, project-based engineering and biomedical sciences courses give students an opportunity to study topics like robotics, digital electronics, and aerospace engineering, while strengthening their critical thinking, problem solving, and communication skills.
The nine students took part in a three-day event sponsored by Lockheed Martin. It began with a school assembly for approximately 70 of their fellow classmates and ended with the group witnessing the history of the AEHF-3 launch. Today's launch gave the students, all enrolled in the Aerospace Engineering course, the chance to put their classroom-based learning into real-life context.
"This was, to say the least, an extraordinary opportunity for the students at Merritt Island High School," said Dr. Vince Bertram, PLTW President and CEO. "Not only did they witness history today, but more importantly, they experienced how their studies in science, technology, engineering, and math come together in the 'real world' of aerospace engineering. This was not, however, a 'once-in-a-lifetime' opportunity for these students; because, I am convinced, at least one of these students will be part of a future team of critical thinkers and problem solvers who launch the next wave of important technology into the world.
"PLTW is grateful to have such an incredible partner in Lockheed Martin, for sharing this event with our students and making an indelible imprint on their outlook for the future."
During the assembly, students and teachers heard from AEHF program leaders, as well as a panel of engineers who discussed the history and background of the mission. The nine students were then announced and given an AEHF-3 launch coin. On the second day of the launch event, the students and other VIP guests, including Bertram, attended a pre-launch briefing and photo op at the launch pad.
"At Lockheed Martin, we are proud to support Project Lead The Way as it looks to inspire and educate the next generation of young scientists and engineers," said Emily Simone, Lockheed Martin director, Community Relations. "This project is extremely special to us as it combines not only our passion for STEM education, but also one of our programs, the AEHF satellite. It's a great opportunity to show kids exciting, real world technology in action."
The AEHF 3 satellite is the third in a series of six satellites that Lockheed Martin is delivering for the U.S. Air Force. The system provides vastly improved, highly secure, protected communications for the executive branch of government and tactical warfighters operating on ground, sea and air platforms. The system also serves international partners including Canada, the Netherlands and the United Kingdom.
Media Contact: Jennifer Cahill, PLTW Director of Communications at (317) 669-0871 or .
Integrated STEM Instructional Systems (ISIS)
STEM Integration Award Selections
Middle and High School STEM Teams Shine in Florida
Havana, FL, March 18, 2013: The 2013 Florida Technology Student Association (FL-TSA) State Conference held in Orlando this past weekend featured the awarding of the inaugural ISIS STEM Integration Award to two shining models of what can be accomplished when students are inspired by dedicated and inspired teachers. This honor is awarded based on projects submitted for the middle school Inventions & Innovations and the high school Engineering Design events that illustrate a high level of integration of science, technology, engineering, and mathematics (STEM) in the design of their solutions. "Though this is the first year for the ISIS STEM Integration Awards," said ISIS Senior Partner, Duane Hume, "the outlook is very promising for the coming years to bring highly competitive and creative design work from our Florida youth."
The eighth-grade team from Nolan Middle School in Bradenton (Manatee County) took the ISIS award for their project entitled "Baby Bells Safety System," an innovative design for alerting a driver that a child has been left in a child seat. Using radio frequency identification (RFID) technology in combination with a pressure switch mounted in the child seat, their design can be tied into the vehicle's ignition and alert system so that the driver has only a short period to retrieve the child before the alarm sounds. The goal of their design is to prevent the tragic death of an infant accidently left unattended in a vehicle. Under the watchful eye of their TSA Chapter Advisor, Justin Devine, the Nolan team was made up of Tim Ackaway, Travis Earp, Alex Long, and Rachel Towe.
The high school honors for Engineering Design went to the team from Braden River High School, also from Manatee County. Their winning design was entitled "Control Flex," a biomedical exercise apparatus for assisting people suffering from neuromuscular disorders to maintain muscular tone, flexibility, and range. This original device is lightweight and uses a number of small pulleys to take advantage of the person's own weight to provide the resistance. Their teacher and TSA Chapter Advisor, Gil Burlew, provided oversight of the team members Paul Wagner, Blake Humbert, Mario Palmer, Justin Proshka, and Abigail Holmes.
The ISIS STEM Integration Award is unique in that while student efforts are the primary focus, the award also acknowledges the teacher's effort in inspiring their students to excellence. "In spite of their generally humble nature," Hume said, "there is no mistaking the impact of a dedicated and inspiring teacher."
The Florida Technology Student Association is a Career and Technical Student Association (CTSO) approved by the Florida Department of Education and fosters problem-solving, decision-making, critical thinking and leadership skills in member students as they study design, communications, power, energy, transportation, engineering, manufacturing, construction, and biotechnology technologies.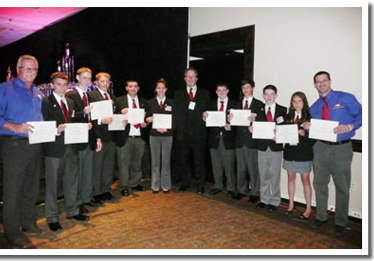 Glamour, Fashion, and Flair!
Lake Technical Center's Cosmetology Program Holds Inaugural Red Carpet Fundraising Event
Lake Technical Center's Cosmetology program's held the first annual Red Carpet and 80's Inspiration Fundraising Events. The excitement began at 1:00 pm, Wednesday, March 20, 2013, at Lake Tech. Tammi Powell, Cosmetology student and future wedding planner, coordinated the decorations of the fountain lobby. Mr. Ed Rizzo, Marketing Director of the Daily Commercial, served as emcee. Five teams of students created a red carpet look for their selected model. Models experienced the thrill of walking the red carpet with an escort and then returned with the other members of their team.
The models were judged on their hair, makeup, and nails. The judges were: Ms. DeAnna Thomas, Adult Education Program Coordinator/Cosmetologist; Mr. Robert Tolvo, Owner of Robert Tolvo Hair Design; Ms. Toni Hawes, Cosmetologist; and Ms. Cheryl Gamble, Owner/Cosmetologist at Hair Strand. The winning team was the "Dixie Darlings" with students Ashley Baker, model, Hannah Maule, Yesenia Suarez, Haley Smith, Lourdes Morales, and Kelsey White.
The fun continued as the evening Cosmetology students held the first annual 80's Inspiration Event. Four teams of students styled the hair, nails, and make-up with the themes of Richy Rich, Workout, Rapper, and Rocker. The program instructors were the models, and Mr. Ed Rizzo emceed the event. Lake Tech Administrators Dr. Diane Culpepper, Director, Mrs. Melissa Stephan, Assistant Director, and Mr. Jack Miller, Assistant Director, and Ms. Deanna Thomas, Adult Education Program Coordinator/ Cosmetologist, served as judges. The winning team was the Rockers with Ms. Tonia Whalen, Instructor/ Model, Holly Morgan, Jennifer Atkinson, Wendi Conrad, Samantha Jo Pickett, Ashley Martin, and Jessica Folgore.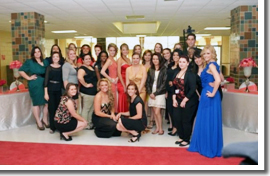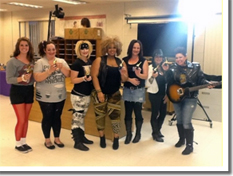 According to Ms. Tonyia Dawson, Cosmetology Department Chairperson, "These projects have brought the new and advanced students together. Students mingled and worked as an awesome, creative team."
The events were held as fundraisers for the SkillsUSA Florida State Championships, which will be held in Pensacola, Florida, April 28-30. Lake Tech will be sending 10 dual enrolled high school and adult students who will be competing in cosmetology; nails specialty; culinary - baking and hot foods; and advertising design. Donations to help fund the students' trip to the SkillsUSA Florida State Championships are welcome.
Lake Technical Center is a public postsecondary institution that offers high quality affordable training. Financial Aid is available for those who qualify and doesn't have to be repaid. Eligible veterans may be certified for VA benefits through the Financial Aid Office. The main campus is located at 2001 Kurt St., Eustis; the south campus address is 513 Albrook St., Mascotte; and the Institute of Public Safety's address is 1565 Lane Park Cutoff, Tavares, (352) 742-6463. Questions may be answered by visiting www.laketech.org. or calling (352) 589-2250. Like us at www.facebook.com/laketech. Follow us on Twitter at http://twitter.com/#!/LakeTechCenter
Industry Certifications Get You Hired!
Web Design, Digital Design and IIT students at Zephyrhills High School (ZHS) are getting certified in Adobe and Microsoft Office. One student, James Kelly, used his industry certifications to obtain a job as a certified technician at Staples.
Last year, in the website design classes at ZHS, James acquired certifications in Adobe Dreamweaver, Flash Professional, and Photoshop earning him the Adobe Certified Associate (ACA) credential. He also became a certified Microsoft Office Specialist (MOS) by passing the exams for various software components through the Introduction to Information Technology course at ZHS. His managers at Staples were impressed when he told them about his certifications and were a main factor in their hiring decision.
James's certifications and his experiences in the business program at ZHS influenced his decision on the selection of a career path. He will be attending the University of South Florida in the fall and will be majoring in Management Information Systems at the College of Business.
High School Students Get Hands-on Training With Police and Fire Rescue
By Carlos E. Medina
Correspondent
Published: Wednesday, March 6, 2013 at 5:04 p.m.
Last Modified: Wednesday, March 6, 2013 at 5:04 p.m.
Andrew Tran, a senior at Pinellas Park High School, remembers seeing helicopters plucking people off their roofs as a child living in New Orleans during Hurricane Katrina.
That's what drew him to explore a career as a first responder and brought him to Ocala this week for the 23rd annual Florida Public Service Association State Conference, a competition that includes simulated tasks related to criminal justice and firefighting.
More than 350 high school students from across the state are descending on the Ocala Hilton this week. The hotel grounds will serve as home base for the competition, which includes task such as writing police reports and responding to mock 911 calls for assistance.
High School Students Get Hands-on Training With Police and Fire Rescue - The full article
Sunlake High School Seahawks Compete in Financial Football Challenge-Win First Place!
:On Saturday, February 23, four students from the Academy of Finance at Sunlake High School in Pasco County, competed in the 2nd Annual Financial Football Challenge sponsored by the Suncoast Schools Federal Credit Union. The area-wide competition among thirteen schools took place at the Tampa location on Hillsborough Avenue in a double elimination format.
The Seahawks performed flawlessly in each game without missing a single question. The final two teams, Sunlake and Southeast, ended the competition in a playoff match of twenty-eight rounds of overtime play.
Each Sunlake team member received a cash prize of $500 and a Dell computer. Team members were: Senior and Team Captain Jeremy Devlin, Juniors Gabriella Rivera, Justin Chang, and Walter Ingram.
The students spent many hours of intense study with their Finance instructor, Sherry Beth Virgadamo, to prepare for the event. When the Sunlake team received a very difficult question, supporters drew their breath, not knowing the answer themselves. Ms. Virgadamo, however, remained calm as her team captain told her before each round, "Ms. V, we've got this"- and, they did.
All students in the Financial Operations class studied and discussed over 600 questions hoping to be selected for the team. The Academy of Finance students and Ms. Virgadamo are very grateful for all the support they receive from their Suncoast Schools Federal Credit Union sponsors and their credit union coaches, Jenny Torres and Marylou Bartlett.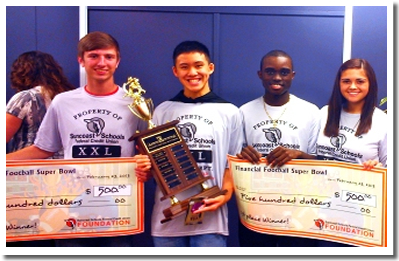 Career Academies @ Work
Car Preparing students for college, career and life
pascocareeracademies.com
Student Internships Paying Off
Two River Ridge High School students were recently selected for a coveted internship/scholarship program (II -VI Scholarship) at VLOC. VLOC is a leading supplier of optical components for the industrial, medical, scientific, instrumentation, military, and telecommunication markets.
Out of 167 applicants, Andrew Saparito and Amar Patel were selected to fill the only two positions available. The students worked fulltime as interns for VLOC this past summer and are working part-time currently. The scholarship provides each student with $10,000 per year to be applied toward college expenses. If they continue to work at VLOC during their summers they will be guaranteed $40,000 for their college education.
More good news from the Academy of Engineering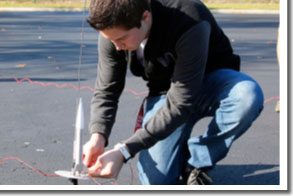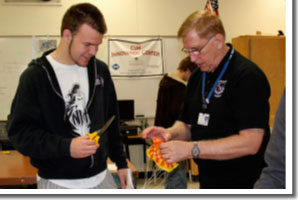 197 students enrolled in the Academy and 22 are on school choice
13 students earned college credit last year from Rochester Institute of Technology (RIT)
12 Students received a paid internship with engineering companies over the summer
4 students are continuing to work for the engineering companies after school
5 students have completed portions of the MSSC (Manufacturing Skills Standards Council) certification
22 students inducted into National Technical Honor Society
Frank H. Peterson Academies of Technology Earn NCAC Honors
The National Career Academy Coalition (NCAC) process in earning the top honor of "Model" academy, as well as the honor of "Certified" academy is truly a lengthy process. The lead teacher spends countless hours ensuring proper data reporting, securing effective internships for their students by maintaining a strong advisory board, and preparing their students for industry certification exams. In addition, they must also prepare and teach their curriculum.
For one Duval County high school, all of this hard work paid off. The academy teachers and students at Frank H. Peterson Academies of Technology earned "Model" status for their Cosmetology Academy and Early Childhood Academy and earned the status of "Certified" for their Culinary Academy.
These teachers and students display a strong work ethic and passion for Career and Technical Education. Students completing these programs are able to take their industry certifications into the workforce immediately after high school.
The NCAC provides the only national certification for career academies and is the recognized leader for support, sustainability and credentialing of career academies.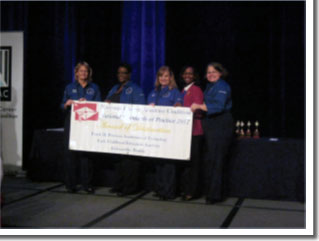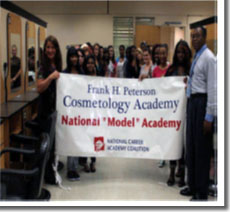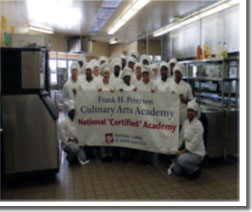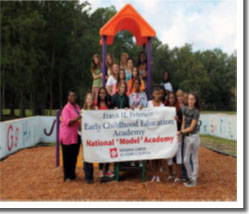 Home at Last: New MTI Campus Opens to Students
The Manatee County Adult, Career and Technical Education Department announces that Manatee Technical Institute just opened its brand new main campus in East Manatee, entering an exciting new season of equipping the local workforce with the finest in career and technical education in the nation. After ten years of preparation, this new $44 million investment and its 210,000 square foot facility replaces much of the original West Bradenton campus built in 1962. With open spaces, accessible classrooms, efficient space planning, and beautiful interior design, the campus is a trophy in the heart of Manatee County.
With advanced equipment and ultra-modern facilities, students can now learn in an environment that matches their 21st century skills. Advanced career education programs include-among others-digital animation, television production, information technology, web design, business administration, hospitality, culinary arts, drafting, manufacturing technology, welding, electrical, HVAC, carpentry, cosmetology, automotive technology, marine technology, and much more. MTI also serves up skills in adult education, while serving the community through personal enrichment classes.
Visitors can experience a tour and sample culinary students' expertise at the Café Mirabilis and the facility's new fine dining establishment.
John Ziemnicki, Chairman of the MTI Board of Governors and the board's drafting advisory committee representative for 30 years, has been keenly involved with this project from the beginning. "These are exciting times," he said recently. "It's been 15 years since we first started thinking about this, working through the funding and acquiring the property. Along with a new, state-of-the-art building, these students now have access to the most current technology. We're looking forward to the best of times in this new building."
The new MTI campus is located on State Road 70 adjacent to the campus of Braden River High School, and opened to students for the first time on January 8, 2013.
New Middle School Career Academy: Science Meets Culinary
The Manatee County Adult, Career and Technical Education Department announces that Sugg Middle School will become the first middle school in Florida with a culinary academy when it opens to students during the 2013-2014 school year. Sugg's Culinary Academy of Kitchen Epicure Systems (CAKES), under the direction of Family and Consumer Science (FACS) culinary teacher Valerie Montgomery and Principal Sharon Scarbrough, will provide students with the opportunity to survey food through taste, research, demonstrations, science-based experimentation, and cooperative cooking teams. This academy integrates academic-based learning with real life skills as students attain industry certifications that transition them to existing CAPE Academies at the high schools.
Culinary students will learn nutrition by cooking through the food plate and traveling the world through international recipes. Visiting chefs will teach knife skills and offer practical knowledge about culinary careers and restaurant management. At the end of this school year, eighth graders will test to receive industry certification in safety and food handling. Next year they will also have the opportunity to enroll in a high school course, Culinary I, for high school credit. Greenhouse management will be added to help students understand the importance of bringing the garden to the table. As Sugg Middle School plans for an academy program, the future looks bright.
Academy Students Top Selected as Sunshine State Scholars
Three of the five finalists for the Florida Sunshine State Scholars Recognition Program are Career Academy students!
Congratulations to Marissa Rice for being selected as the 2012-13 St. Johns County School District's Sunshine State Scholar. Marissa is a junior in the Academy of Biotechnology and Medical Research at Ponte Vedra High School. Congratulations to Maxwell Kline, a junior in the St. Johns County Aerospace Academy at St. Augustine High School for being the alternate selected for this program.
The Florida Sunshine State Scholars Recognition Program was established in 1997 to recognize high school students who excel in math and science and to expose them to STEM (Science, Technology, Engineering, Math) career and college opportunities in our state. In addition to participating in the February 21-22, 2013 program in Orlando with her parents and academy teacher, Dr. Kathryn Kehoe, Marissa received the Elaine Crutchfield Math and Science Scholarship for $100 from our school district. Maxwell received a $75 scholarship. Congratulations as well to Nicholas Pinelli, a junior in the Academy of Emerging Technology at Creekside High School who received a $50 scholarship.
Miami Central Senior Receives $100,000 Federal Grant
Miami Central Senior High School was awarded a one-year $100,000 grant from the Federal Highway Administration under the Garrett A. Morgan Technology and Transportation Education Program. The primary goal of this project, "Building Leadership Across Science and Technology (BLAST)" is to improve the preparation of students, particularly women and minorities, in science, technology, engineering, and mathematics (STEM) by introducing the development of mobile applications technology related to the transportation industry. The grant is named after Garrett A. Morgan, an African-American inventor and entrepreneur.
Students will be provided with opportunities from career readiness and hands-on experience to college preparatory-level classes, labs, and creative exercises. The project is a partnership between the Miami Dade College School of Engineering and Technology, the Miami NAF STEM Advisory Board, the Miami-Dade Expressway Authority and the Florida Department of Transportation (FDOT).
The coursework includes specific technology skills related to the FDOT Roadway Design Project planned to improve safety and operational conditions in order to reduce the number of crashes occurring at these un-signalized intersections in NW Miami. Students will participate in extended classroom experiences and meet and observe project engineers throughout the roadway design process throughout the year and be exposed to the FDOT and Miami-Dade Expressway Authority's community awareness campaign.
The Academies of Engineering and Information Technology are magnet programs at Miami Central. Interested students who reside outside the school's attendance boundary can still apply by contacting each respective lead teacher at 305-696-4161.
For additional information regarding the project, please contact the School Choice & Parental Options Office at 305-995-1922.
Baker County FFA Team Takes 2012 State Food Science & Technology Champion Title
The 2012-13 Florida FFA State Food Science and Technology Career Development Event (CDE) was recently held at the University of Florida. Twenty-seven high schools competed for the state championship title to be awarded at the annual Florida FFA State Convention in June 2013. Represented by four freshman FFA members, Hunter Burnsed, Jesse Lambright, Bethany Richardson and Garrett Stavely, along with FFA Advisor and Agriscience teacher, Cacee Ford, the Baker County High School Senior FFA Chapter earned the prestigious first place award and the 2013 State Champion title.
A goal of the Food Science and Technology CDE is to test the skills of students in the areas of new food product development and marketing, food sensory, and food safety and quality. To prepare for the contest, the BCHS team held practices twice a week to the necessary master skills. In partnership with Ms. Ford, Richard Yaracs, Biology teacher at Baker County High School, assisted the team in preparing for the exam, a major component of this year's Food Science and Technology competition.
BCHS Food Science students agree that the Product Development part of the competition is what they enjoyed most. In this round, students were challenged to invent a food product, create a management plan for facilitating the product's ingredient processes, analyze and label the nutritional values, design product packaging, and develop a marketing plan. When asked what impact Food Science has on everyday living, State Champion and High Points Individual, Bethany Richardson notably replied, "The entire agricultural industry and all consumers rely on it. Without Food Science individuals would have a difficult time developing and sustaining their own safe and wholesome food supply."
This year's event had a record number of competitors making the state win an extra special event for the Baker County Senior FFA Chapter. The State winning team will represent the Florida FFA Association at the National FFA contest in the fall of 2013 in Louisville, Kentucky.
The Baker County High School Agriscience program is designated by the Florida Department of Education as a STEM program---one that integrates Science and Math and uses Technology and Engineering processes to solve real world problems.
Baker County FFA Team photo (PDF, 235KB)
Manatee County's International Engineers
Manatee County engineering technology students Mario Palmer (Braden River High School junior), Jeremy Petty (Braden River High School alumni), and Aly Cote (Lakewood Ranch High School freshman) have just returned from the F1 in Schools World Finals racing competition in Abu Dhabi, UAE. F1 in Schools is a multi-disciplinary challenge in which teams of students deploy CAD/CAM software to collaborate, design, analyze, manufacture, test, and then race miniature gas powered balsa wood F1 cars. The challenge inspires students to learn about physics, aerodynamics, design, manufacture, branding, graphics, sponsorship, marketing, leadership/teamwork, media skills, and financial strategy, and apply them in a practical, imaginative, competitive and exciting way.
The students were part of Velox F1, a collaboration team of six students-three from Manatee County and three from Canada-who spent five months and approximately 500 hours virtually preparing for the event using Skype, social media networking, and WebEx. The six did not meet in person until they arrived in the UAE for the competition.
The team finished 13th after fierce competition. A total of 33 teams from 22 countries competed in the event with more than 350 students competing for top awards. The competition was held inside the world's largest indoor theme park, Ferrari World on Yas Island overlooking the prestigious Yas Marina Formula One Circuit in Abu Dhabi.
"This was a truly amazing learning experience," said Mario, the team's graphic designer. "We have met students from all over the world and witnessed how each team interpreted the engineering rules to compete in this global competition."
Among others, chaperons included Janet Kerley, Haile Middle School Principal, and Margi Nanney, Manatee County School District Supervisor of Communications and Public Information.
VELOX F1 in School Team photo (PDF, 209KB)
Atlantic Technical Center and Technical High School, Coconut Creek, Florida
Ruben Montes, a Cisco Networking student at Atlantic Technical Center and Technical High School qualified for Round 2 of the Academy Netriders competition where participants get hands-on experience in a competitive environment. Uniting students from around the world, the competitions are interactive. They provide career opportunities and internships through increased visibility. Ruben is one of only 6 students in Florida who qualified to advance to the next round, which was given the 3rd week of November and we are awaiting the results. If successful during Round 2, he will be able to advance to the final round held November 30th. Congratulations go to Ruben, and to his instructor, Ellen Williams, for this wonderful accomplishment.
Photo (PDF, 101KB)
Jacob Weinreich-Frick of the Orlando-Colonial FFA Chapter in Florida won the award for Agricultural Mechanics Repair and Maintenance - Placement. Growing up in Sweden, Jacob became fascinated with machines and how they worked. He would draw-up plans to build go-carts, cars and anything with a motor. Upon coming to the United States and joining FFA, he indicated his passion to chapter leaders and gained employment with a local tractor outlet, becoming their service technician. In his time there, he has worked on numerous pieces of equipment and established his own base of 78 clients. He is supported by his parents Sarah Weinreich and Lennart Frick and his FFA advisor Tim App.
The winners of the National FFA Organization's Agricultural Proficiency Awards were announced October 26, 2012, on-stage during the Sixth General Session of the 85th National FFA Convention & Expo at Bankers Life Fieldhouse in Indianapolis, Indiana. Each winner was one of four national finalists in each proficiency award category and competed for the national honors during judging earlier in the week.
The National FFA Organization's Agricultural Proficiency Awards program recognizes outstanding student achievement in agribusiness gained through establishment of a new business, working for an existing company, performing agriscience research or otherwise gaining hands-on career experience. It serves as the award structure for an FFA member's supervised agricultural experience (mandatory for all FFA members) and is designed to develop specialized skills in 49 categories that they can apply toward their future careers. Awards are available at the local, state and national levels and a description of each 2012 award category can be found on http://www.FFA.org/proficiency.
The national winners and finalists for each of the award areas became eligible for national consideration after taking top honors in their home states. Each winner takes home a total of $1,000 for their efforts, and each finalist earned a $500 award thanks to sponsorship provided by a long list of corporate FFA supporters. More information can be found online about the Agricultural Proficiency Awards (ffa.org/proficiency), the Supervised Agricultural Experience and the 85th National FFA Convention & Expo on the National FFA Organization's web site.
National FFA Organization - Press Release
Indianapolis (Saturday, Oct. 27, 2012/National FFA Organization) - From an early age, Florida student Clay Sapp knew he was a good communicator and teacher.
But it wasn't until he took some agricultural education classes and joined FFA that he discovered how he wanted to channel those two skills. He learned about the country's need for great teachers who could teach agriculture. He determined that his passion lies in school administration.
"I want to teach high school agricultural education and then obtain a master's degree in educational leadership," he said. "My goal is to become a school administrator so I can encourage classroom innovation and motivate students to become better scholars and young people."
Today, to conclude the 85th National FFA Convention & Expo in Indianapolis, Sapp was elected National FFA president for 2012-13.
Joining him on the 2012-13 National FFA Officer team are Kalie Hall of Georgia as national secretary, Joenelle Futrell of Kentucky as Eastern Region vice president, Lindsey Anderson of California as Western Region vice president, Brennan Costello of Nebraska as Central Region vice president and Wiley Bailey as Southern Region vice president.
For the next year, the group will travel more than 100,000 miles across the country to engage top leaders in business, government and education. The national officers will lead personal growth and leadership training seminars for FFA members. The team will help set policies that will guide the future of FFA and promote agricultural literacy.
A seven-year member of the Madison County High School FFA chapter in Madison, Fla., Sapp served as a Florida national FFA delegate from 2008-2010 and won his state's prepared public speaking competition in 2010. He was student body president his senior year in high school, salutatorian of his graduating class and a varsity baseball and tennis player.
"As a national FFA officer, it will be my mission to activate change and growth in the National FFA Organization," he said. "I plan to develop strong relationships, be a champion of FFA and agricultural education and seek new ways to strengthen student experiences within FFA."
Dual enrollment hours he accomplished in high school enabled Sapp to graduate from North Florida Community College with an associate of arts degree in just one full college semester after high school. Today, he is a University of Florida at Gainesville student pursuing a major in agricultural education and communication.
"I intend to serve and give of myself as a leader and role model," he said. "I realize that not all of my hopes and dreams for our organization may be feasible but in a year from now I want to know that I planted seeds to advance the National FFA Organization's mission for the future of agriculture."
Sapp is the son of Ed and Gina Sapp; his father was his FFA advisor in high school.
The National FFA Organization provides leadership, personal growth and career success training through agricultural education to 557,318 student members in grades seven through 12 who belong to one of 7,498 local FFA chapters throughout the U.S., Puerto Rico and the Virgin Islands.
South Florida to Compete at the 2012 NFTE National Youth Entrepreneurship Challenge
Two South Florida High School Students to compete for cash to jump-start their businesses, further their education on October 6 in New York City
South Miami, FL- October 5, 2012 -Jhasir Bermudez (Miami Southridge Senior High School and Mariem Marquetti (John A. Ferguson Senior High School) are among the finalists competing in the NFTE National Youth Entrepreneurship Challenge, presented by MasterCard Worldwide, in association with Kathryn W. Davis, in New York City on Thursday, October 11th. This event will kick off NFTE's 25th Anniversary program year.
The finalists represent 34 businesses, all of whom participated in the Network for Teaching Entrepreneurship (NFTE)'s program that engages and inspires young people to pursue educational opportunities and start their own businesses, were first and second place winners of their Regional Business Plan Competitions, and have moved on to the finals to compete for seed capital and prizes.
"This year's competitors are an impressive group of young people with an array of interesting business ideas," said Steve Mariotti, NFTE Founder. "They exemplify outstanding drive, dedication and commitment as they work to get their plans in shape and even to bring products and services to market in preparation for the competition. And thanks to the support of sponsors like MasterCard Worldwide, Kathryn W. Davis, and E*TRADE, we are excited to have the opportunity to recognize so many amazing young entrepreneurs from around the country."
Finalists were required to develop and present original business plans as part of their entrepreneurial studies at school. As part of their coursework, NFTE students receive hands-on training in launching a business and learn the real-world relevance of math, reading and writing to their businesses. The NFTE curriculum reinforces students' critical thinking skills and provides them with tools to help them take control of their futures and think entrepreneurially.
The 2012 NFTE National Youth Entrepreneurship Challenge grand-prize winner will take home a total of $25,000 in venture capital and prizes, including a $2,500 technology suite from Microsoft, $2,500 of business travel, and a $5,000 Coleman Entrepreneurial Scholarship, sponsored by GlobalHue. Two runners-up will each win $5,000 and two round-trip tickets on Southwest Airlines.
Finalists will also film an elevator pitch video as part of the NFTE Online Elevator Pitch Challenge, presented by E*TRADE Bank. The winner of the pitch challenge will receive $2,500 on the evening of the National Challenge with two runners-up receiving $500 each.
Additionally, in honor of NFTE's 25th Anniversary, the event will also feature the inaugural Mariotti Venture Award Pitch Challenge, at which up to ten NFTE graduates with fully operating businesses will compete for an additional $25,000 in venture capital. The winner of this new challenge will be chosen by a panel of judges in combination with a live action vote by the audience.
South Florida's first place winner, a senior at Miami's Southridge Senior High School, Jhasir Bermudez, responding to the market for chemical-free children's clothing, developed Princesa by Jhasir, a business manufacturing organic cotton dresses for young girls. Jhasir works 30 hours a week to help support his family while staying in the top 1% of his class. Jhasir has always been inspired by his mother, who is an expert seamstress and taught Jhasir how to sew. When Jhasir enrolled in the NFTE class, he immediately saw an opportunity to develop his talent for sewing and design into a full-fledged business.
Mariem Marquetti is a sophomore at Ferguson Senior High School. She won second place with her business Purely Natural Crochet, a collection of hand-crocheted scarves. Since then, her business has evolved to include one-of-a-kind crocheted purses. Mariem is a dynamic presenter and excited about her upcoming trip to New York.
Both students will go on to represent South Florida at the national competition in New York City. "We seek to address the needs of under-served segments of our young students, offering support and opportunity where there would otherwise be none," said NFTE Executive Director, Alice Horn.
Contact: Alice Horn, Network for Teaching Entrepreneurship, 5901 SW 74th Street, Suite 210, Miami, FL 33143, 888-896-7776 x 5000 for more information.
Erwin Technical Center Shares Medical Assisting Program's Good News
On September 20, 2012, 10 students graduated from the Medical Assisting Program at Erwin Technical Center in Hillsborough County. Of the 15 students in the program, 13 applied for and received permission to sit for the American Association of Medical Assistants (AAMA) certification, and 60% of those students have taken and passed the exam (prior to graduation). The remaining students are scheduled to take the exam in the next few months.
Instructor Tandy Fritcher is very proud of her students and states that "each student has grown personally and professionally this year and it gives me great pleasure to now be able to call them my colleagues, people that I would be honored to work side by side with".
Ms. Fritcher may have the chance very soon, as 40% of this class was offered employment opportunities during their clinical externships, and the rest are looking for and applying for medical assisting positions in the area.
The Beacon Council Speaks at Public Schools Summer Workshop for Teachers
Jaap Donath, Ph.D., Vice President of Research & Strategic Planning, and Will Corbin, Manager of Research & Strategic Planning, both of The Beacon Council, spoke Tuesday, August 7th, at Miami-Dade County Public Schools (MDCPS) School of Choice/National Academy Foundation summer workshop. Donath and Corbin delivered a presentation to 60 teachers from MDCPS Career Academies on The Beacon Council, the state of the local economy, and One Community One Goal as it relates to education and workforce development.
MDCPS and its Career Academies partner with the National Academy Foundation (NAF) to help prepare students for college and career success. The NAF educational model includes industry-focused curricula, work-based learning experiences, and business partner expertise within four areas: Finance, Hospitality & Tourism, Information Technology, and Engineering. Employees of various local companies volunteer in classrooms, act as mentors, engage NAF students in paid internships, and serve on local Advisory Boards.
Florida Phi Beta Lambda (PBL) Wins 80 Awards at the National Leadership Conference
Florida is ONCE AGAIN the state that led the nation with national awards at the 2012 National Leadership Conference! With 80 awards in total, Florida was the state to look at with the best competitors and also the best dressed members. The state is very proud of the 183 members that attended the conference. As district conferences and the State Fall Leadership Conference is coming up soon we are excited to see you all in just a couple of months! Let's keep this momentum going as it will lead us to 81+ awards in Anaheim, California!
Middleton Students Take 1st Place in Bridge Design
Congratulations to Middleton High School Engineering Magnet students: Marcelino Mederos, Junior, and Taeyun Hwang, Sophomore, who took 1st place in the 2012 Hillsborough County West Point Bridge Design Contest, sponsored by the local American Society of Civil Engineers (ASCE ) West Coast Branch.
Their winning team, 'Team Genius', won a $500 cash award; the team is now headed to Orlando in July where they will compete at the annual Florida West Point Bridge Competition, competing against teams from all over Florida! The 1st Place cash award for this competition is $1,000.
Photo of winners (PDF).
Chancellor Rod Duckworth Delivered Keynote Address to Graduates at Lake Technical Center
Lake Technical Center honored the 2011-12 recipients of program certificates on Thursday, June 21st at 7:00 p.m. The cap and gown graduation ceremony for graduates was held at Lake Receptions, 4425 N Hwy. 19A, Mount Dora. Approximately 611 graduates were recognized for their accomplishments. Rod Duckworth, Florida Department of Education Chancellor of Career and Adult Education delivered the keynote address. The Lake County Board of County Commissioners was announced as Lake Tech's Career and Technical Education Business and Community Partner.
Another highlight of the event was the introduction of Student of the Year nominees and the announcement of the 2011-2012 Student of the Year. The following were nominated by their program instructor for consideration as Student of the Year: Mr. Gabriel Acevedo, Commercial Foods and Culinary Arts; Mr. Timothy Bielfelt, Fire Fighter; Ms. Lynda Colaveccio, Practical Nursing; Ms. Kassie Cozart, Digital Design; Mr. Douglas Draper, Paramedic; Ms. Arlene Gonzalez, Administrative Assistant; Ms. Sierra McVeigh, Emergency Medical Technician; Ms. Paula Quintanilla, Accounting Operations; Ms. Delaney Robinson, Automotive Service Technician; Ms. Quantesia Smith, Cosmetology; and Mr. Cory Sommer, Law Enforcement Officer.
Mr. Cory Sommer, Law Enforcement Officer, was named 2011-2012 Student of the Year. According to Dr. Lindamood, Program Specialist, "Mr. Sommer's first experience at Lake Tech occurred when he was very young; he was part of the Tiny Tech child care program. In 2006, he came back to Lake Tech and entered the Law Enforcement program; he excelled academically and physically; in fact, he still holds the record for the fastest completion time on the Physical Abilities Test. But a challenge beyond his control made him ineligible to become a law enforcement officer at that time. He did other things; he worked overseas for some time, but he never gave up his dream of becoming a law enforcement officer. His focus and perseverance brought him back to Lake Tech in 2011 to the Academy again, and this time he overcame all barriers and met all challenges. He graduated from the Law Enforcement Academy, and he was recently hired as a Certified Deputy with the Lake County Sheriff's Office. This is an impressive story, but the thing that impressed us most about this candidate is his level of willingness to examine his actions and even his own character and to use his education as a vehicle for personal transformation. He described himself before his education as someone with a powerful ego, but serving the public has humbled him and opened his eyes to the realities and challenges of life that many citizens face. It was clear to the selection committee that this experience has definitely changed him. He told us that his power now comes not so much from ego but from maturity and a deep desire to serve, assist, and protect - the very essence of what a law enforcement officer should be."
The 2011-12 recipients of the State of Florida High School Diploma were honored in a separate ceremony held Tuesday, June 19th at 7:00 p.m. The cap and gown graduation ceremony was held at Lake Receptions, 4425 N Hwy. 19A, Mount Dora. Lt. Chris DeLibro, Deputy Sheriff and Lake Tech Law Enforcement Program Director, delivered the keynote address.
Lake Technical Center's Institute of Public Safety held individual ceremonies for program graduates of Law Enforcement, Corrections, Fire Fighter and Crossover from Law Enforcement to Correctional Officer.
Lake Technical Center is a public postsecondary institution that offers high quality affordable training. Financial Aid is available for those who qualify. Eligible veterans may be certified for VA benefits through the Financial Aid Office.
The main campus is located at 2001 Kurt St., Eustis and the Institute of Public Safety is located at 1565 Lane Park Cutoff, Tavares, (352) 742-6463. Questions may be answered by visiting www.laketech.org, emailing or calling (352) 589-2250. Like us at www.facebook.com/laketech. Follow us on Twitter at http://twitter.com/#!/LakeTechCenter
Trax Is Probably The Hairiest and Most Spoiled Learning Tool Around
The five month-old German Shepherd is being trained as a K-9 officer by students in the Newberry High School Academy of Criminal Justice. Under the watchful eye of academy director, Patrick Treese, and with the help of local law enforcement agencies, the students will eventually be teaching him to track people and search for narcotics. Ultimately Trax will be going out on actual calls.
"He comes from a long line of police and rescue dogs," said Treese. "With the training he gets here, he will be a real police dog in every sense."
In the meantime, Treese and his students have their hands full teaching the fifty-plus pound puppy basic commands and keeping him from dragging away students' belongings during class. They also have to keep other students and adults at the school from spoiling him, including the front office staffer who keeps a cookie jar of doggie treats on her desk.
"She is limited to two a day," said Treese. "Otherwise she would feed him treats all day long and make him fat."
"He is a good, goofy dog," said junior Alex Grochowski, one of two students chosen as the dog's primary trainers. "He definitely acts like a puppy, but he has a great personality, and I think he will be a really good dog when he gets older."
Trax is already helping earn his keep for the Newberry High program, a magnet career academy that draws students from throughout the district. Treese and his students have taken him to area middle schools to help recruit students into the program, and he's been a big hit.
"More importantly, is what Trax is providing the students already in the program" says Treese.
"I'm always looking for ways to give the students real-life experiences, to make this program as real as I can get it," he said. "This is another facet of law enforcement that they will be getting that they would not normally get to see."
Such an experience would not have been possible without the support of the community. Trax was actually donated by the Von Adelhof Kennel in Hawthorne. His veterinary care is provided free of charge by the Newberry Animal Hospital. And to make sure Trax has an appropriate 'ride,' the program's squad car is getting new 'K-9 on board' signage courtesy of Sign-A-Rama, window tinting from Sound Depot and Performance and a K-9 travel system from Setina Manufacturing.
Treese is currently seeking a sponsor for his food bill and is also looking for help to build an agility course on campus when school starts up again in the fall.
When he's not in school, Trax spends his off hours at home with Treese, Grochowski or junior Nicole Keys, who is his other primary trainer. She says she is looking forward to the day when Trax officially goes 'on duty.'
"If he got the chance to help save somebody's life or do anything that would help someone, that would be wonderful," she said. "That's something we could really take pride in."
DeSoto Middle School Set to Unveil High School Credit Opportunities
DeSoto Middle School was recently named a recipient of the Middle School Informational Technology Career Academy Technical Assistance Project. This project is sponsored by The Whetstone Group and CCI Learning Solutions Inc., in cooperation with Workforce Florida, Inc. It will provide 15 middle schools in the State of Florida with free Microsoft Office 2010 Suite software. In addition, professional assistance will be provided regarding setting-up and maintaining a successful Informational Technology Academy. DeSoto Middle School will receive courseware and free industry certification exams totaling over $6000 to support students as they demonstrate their knowledge and abilities in becoming globally recognized as an expert in a multitude of Microsoft Office products.
DeSoto Middle School will offer all eighth graders the chance to enroll in the Informational Technology Academy for the 2012-2013 school year. The course could earn them high school credit as well as the prospect of becoming industry certified in Microsoft Office products. The opportunity to build an educational background in technology will carry on into high school as DeSoto County High School currently has an Informational Technology Academy and likewise offers courses leading to industry certification in Adobe.
Wanting to expand the offerings for the next school year, DeSoto Middle School additionally established two more courses for those interested in Agriculture and Culinary Arts. These classes will also earn high school credit, possible industry certification, and lead into programs offered at DeSoto County High School. The Agriculture class will be the beginning course for a brand new Biotechnology honors program set to open at DeSoto County High School in 2012-2013.